About Kleť Observatory
The Kleť Observatory is a research institution belonging to few natural science centers of Southern Bohemia in the Czech Republic, supported by the South Bohemian Region. Our research projects are also supported by grants. The observatory is situated south of the top of Klet mountain (at altitude of 1070 m), southwest from the town of České Budějovice, where the seat of the directorship and observatory archive are located. Kleť Observatory was founded in 1957.
There are one hundred and fifty clear nights per year with a good astronomical seeing on the average, as shows data from photographic observations of minor planets and comets since sixties. The number of clear nights is significantly higher than the average for the Czech Republic, which results from two main factors - altitude of the observatory (1070 m) is about two hundred meters above the average top of stratus clouds, that typically form above the Czech basin during inversion periods (frequent in autumn and winter), and dissolving of clouds by the foehn winds in the lee of Alp mountains.
MPC Observatory codes
046 Kleť Observatory, České Budějovice
246 Kleť Observatory-KLENOT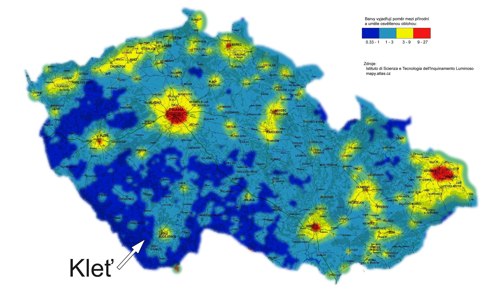 Light pollution in the Czech Republic - location of the Kleť Observatory arrowed.
Contact
WWW : www.klet.org
phone : +420-380-123-327 [VoIP]
phone : +420-380-711-242

Address
Kleť Observatory
Zátkovo nábřeží 4
CZ-370 01 České Budějovice
Czech Republic
© 1996-2023, HaP České Budějovice-Kleť | Created by
Kostax s.r.o.
| visitors: 521 184 since 1. 9. 1996 |
Accessibility Statement